27 February
smells like spring
the air is wet and warm and kind of heavy, but in a pleasant way. outside the whole world is fogged up, but it's also full of birdsong. i heard some little birds talking to each other right by my window. it's so cute! i love hearing the birds sing, no matter how early in the morning. it must have rained overnight to be so humid, or at least the rain is on its way... i'll have a good weekend and then it will be March!
since i've only just gotten out of bed, there's not much to write about. nevertheless, i wanted to preserve the feelings of this nice morning. everything will be okay.
26 February
Panera Breakfast Sandwich Blues
just kidding, there's nothing to feel blue about. my breakfast sandwich was quite delicious! next time, i'll be sure to ask to add some lettuce and tomato.
the weather is warming up finally, so i took my time outside today. the sun is very bright, and the sky is very blue. i really hope to see some leaves on the trees soon!
last night, i started drawing again! i'm really glad to have found an art style that doesn't require too much effort. it comes out looking very rudimentary and Not That Great, but i have a lot of fun drawing and that's what's most important to me! i want to have fun... it's ok to have fun... i'm supposed to have fun.
Twelve and i are going strong... my grades are good... once the world is green again, i just know that it will be basically perfect. i think today i will draw some more, maybe work on my March diary page. it's gonna be pink! i love that colour...
i can't wait for springtime, and then summertime will be even better. i feel really optimistic. i hope the Me of the future who reads this entry can remember how i felt, sitting at my desk and rocking back in my chair... the sun is shining pleasantly, though i'm a little chilly. i've got all the standard college-age aches and pains, plus a weird throbbing from grinding my teeth at night(?), but i can't complain. i've put my feet up, i'm listening to A Perfect Circle, and nothing is wrong.
everything will be fine.

22 February
wow, time flies
hello Neocities! i've been away for a while, oopsies. i really missed this cute little website. i think in my downtime, i'll start making a page for March. that is my birthday month, so i'd like to have a really cute diary! i wonder how i should make it look? it'll be fun figuring out the design.
lately, i've been playing lots of Love Nikki Dress-Up Queen and it's sooooo super duper fun! i have a feeling that when it first came out, a friend of mine urged me to try it, but i never got invested. now i play it every morning when i wake up, and again several times throughout the day. i love collecting new clothes! my other favourite part is the story. i think it's very cute and fun in that Little Girl way, where all the characters are adorable and the story is very simplistic, but overtime it transforms into a harrowing tale of love and death and destiny and war... i can't wait until i understand all the Love Nikki politics.
i'm meant to be listening to a lecture right now, but i just can't bring myself to care. i'll study from the slides later on, and even look at them as i take the quiz ahaha. school is a bit difficult because my glasses are not super engaging, and i don't feel very connected to any of my peers or instructors... nevertheless i'm enjoying myself so far, too. life in the dorms is pretty freeing. i like that nobody is watching whether i come or go, or if i just stay in my room all weekend. i'm pretty pleased with life right now.
i've also been writing a bit more! the aforementioned Story of Seasons fanfiction is pretty much abandoned, but i did write a couple other things just for fun. right now, one of my dreams is to publish and share a fanfiction again... i feel a bit embarrassed by the sorts of things that i write, and i'd definitely need to polish up my drafts before the public is allowed to see! despite it all, i think it'd be fun. i want to try. there's not much else for me to do except read and write more... it's important to maintain a creative outlet.
this entry feels so scattered, but nobody minds. these journals are just for me, and i have fun typing them out. later on, i'll eat a gigantic salad and write some more. i'll be ok!
7 February
another blizzard!
as i type, i can see big fat snowflakes falling through the fog. they're even going sideways! but it's not cold at all, and it's also quite bright outside. i had naiively hoped that the snow wouldn't come when it didn't start as early as predicted, but the storm seems to be just as strong as everyone said it would be. i hope that i don't get snowed in. i've got places to be tomorrow.
the developers of Pastel Girl and Lily Story have a new dress-up game! i didn't like Pastel Friends that much because of the limited options, but other than that game i truly believe that SeyeonSoft's work improves with each release. their newest title is called Lily Diary and it's so super cute! there are lots of different themed outfits and different hairstyles even in the free version, so it's very versatile for doll making. the characters are totally proportionate, too, which i didn't even realise i needed.
it reminds me of when Animal Crossing made the transition from it's bobblehead designs into charactes with proper torsos with the release of New Leaf. initially, i resisted it, but it does make for better character customisation when you can choose between a top and skirt or a dress. i miss the mandatory hats from the GameCube version, just a little bit.
all i talk about lately is video games, huh? i want to do different and fun things sometimes, too. i've finally got some nice pens and pencils and a proper eraser, so i think i will doodle sometime soon.
3 February
today, i'll bake bread
despite the massive piles of snow all around, it's not actually all that cold outside. i saw some neighbourhood kids rolling down the massive snowbanks. it looked fun! apparently there will be yet another blizzard in a couple days... i shouldn't let it bother me so much. it doesn't really matter in the end.
since there is not much else to do, i'm baking some bread. i put a little bit of cinnamon powder and nutritional yeast into the dough, just to see how it turns out. the activated yeast is acting strange and having a hard time waking up, but i'm sure it will end up working out in the end. if it's gross, i just won't eat it.
last night, i laid awake writing 3,000 words of Story of Seasons fanfiction, starting from Kasumi's first meeting with the Farmer Holly to the end of their first summer together. i didn't do any research beforehand and barely any as i was writing, but i think it was the right choice. i just listened to the Indoors theme from Grand Bazaar and let myself get lost in the flow. it's nice to write cute stories about well-adjusted people where the happy ending is guaranteed. is that why Hallmark movies are so popular?
anyway, it was only this morning that i started to look more closely at Kasumi's character. while she was my first choice as a bachelorette in my initial playthrough, it's been many years since then and i've forgotten most of it. plus, i doubt i was paying great attention to all the little details in her dialogue. now, combing through the text dump of every line of text in the game, i feel more confident in my grasp on her character.
for one, i noticed that despite her tendency to slip into authoritarian roles, she's actually quite shy. Kasumi is constantly apologising to friends and lovers alike for being upset, feeling sick, causing a nuisance, needing attention, or for being ignorant of different customs. it seems she strives to be perfectly polite and dignified to her own detriment. i really empathise with her in that regard.
she's reserved both in speech and in expression, speaking with grammar so proper it rivals legal documents. i think this is mostly due to her profession as a primary school teacher. children are incredible sensitive to even the slightest shift in tone or mood, so Kasumi takes extra care to be their impartial role model. also, i've decided she is just a little bit of an autist. it'd explain why she has so much trouble conversing with others. Komari is Kasumi's only friend aside from the player... maybe it's because, from a distance, she appears to be out of everyone's league and prospective friends interpret her shyness as stone-walling.
... i'm realising now that i could go on and on, dissecting her character like this for ages. some of it is projection, surely, but in the end it's my story isn't it? i'll write it with as much detail as i please. it's ok to do things for fun. i'll be ok.
2 February 2020
so, "inclimate" is not a word
the snow kept coming down today. everything is cold and frozen. i actually trudged my way through the yard to the street this morning, and the snow came up all the way to my knees. i'm glad that i wore two pairs of pants!
because of all the snow, i learnt that the word to describe severe weather is "inclement" and not "inclimate." i think it would still make sense if it was inclimate though, because the prefix in- is a negation... so wouldn't my pretend word "inclimate" mean "not typical of the climate?"
doesn't matter. i'm so tired. it's dark outside now, and as much as i love snow, it loses all appeal the moment anybody sets foot in it. there's nothing quite as nauseating as dirty snow piled up on street corners, turning brown from oil and grease and asphalt... i want to live somewhere green, with no cars and lots of flowers.
trying to think of something nice to write about that makes me happy, i've decided to talk about my favourite bachelorette from Story of Seasons: Trio of Towns.
Kasumi of Tsuyukusa Village
in Summer Year 1, the gate to Tsuyukusa is restored, allowing the player to explore the nostalgic Eastern themed town and meet its friendly residents. two weeks into the season, bachelorette Komari wakes the player early in the morning to introduce her best friend Kasumi, the local teacher who has returned home from her travels. she's a polite and dignified young woman whose reserved nature contrasts against the energetic Komari. when introducing herself, she says she is happy to meet another girl in the area and hopes to become friends.
the moment that i saw her, i knew that i wanted to court her. in fact, i immediately abandoned my first save file to play as a boy so that we could get married. (thankfully, Trio of Towns lets the player crossdress freely, so i could still pretend i was playing as a girl.) imagine my surprise when she treated my character so coldly!
Kasumi despises men. she will not tolerate perverts and never hesitates to threaten unruly men with her naginata. as a child, her father forbade her from learning to read or write, fully intending to let her grow up illiterate and disenfranchised. luckily there was a housemaid who gave her lessons in private. determined to save other little girls from such a destitute life, she left behind her family to become a primary school teacher. while her male students are tolerable because they are just young children, she avoids talking to men her own age unless it's absolutely necessary. the energy she saves with this practice is redirected into writing poetry, visiting neighbouring towns, and improving the lives of female Tsuyukusa residents. she's unapologetic about it, too. it only made me love her even more.
and yet her entire romantic arc revolves around undermining these clearly established morals... it's quite disappointing. i don't know what else i would expect from a game with only heterosexual marriages. Kasumi goes from "all men are trash" to "well, uh, not all men, i guess?" and oftentimes feels shocked and confused by her affection for the player courting her. i know that there's no other way to "realistically" romance a character who is clearly a lesbian, but i still think Kasumi deserves better.
if i was in charge— and i guess this is just a wish fulfillment fanfiction?— you could only marry her as a female character. the platonic flower events could stay the same. after all, they establish Kasumi as a strong-willed, hard-working, and steadfast woman who compromises herself for no one. then, just as in the original storyline, the player learns more of her soft side. i'd like to see a heart event where the player is invited to have tea together with Komari and Kasumi. at some point, Komari leaves the room to prepare more tea, and the player has the option to subtly flirt while they're alone. another event could have Kasumi practicing with her naginata, and then starting to show off despite her usually reserved mannerisms because she wants to impress the spectating player. Kasumi admires dedication and devotion, so i think there could be another event where she admires the player for revitalising the abandoned farm.
the blue flower event in which Kasumi nearly flays alive a peeping tom could be easily repurposed. in this version, the player comes out of the bathhouse herself, only to see that a man has been watching women bathe the whole time. the player alerts Kasumi and she swiftly punishes him. a male player character has no real stake in this conflict (the incorrect dialogue is literally "drat, now i can't peep anymore"). here, it's more personal. Kasumi is not only doing her usual duty as the unofficial protector of Tsuyukusa's women, but she's rescuing the player as well. perhaps Kasumi would promise to always look out for the player, because she can't stand the thought of leaving her vulnerable or unprotected...
for her reverse confession event, i think it would be really cute if she asked to go steady with a poem recitation. for dates, the two could visit restaurants in the neighbouring towns, scraping together their teacher's and farmer's salary to split one huge dessert. Kasumi has a lot of warmth inside her but her strict upbringing encouraged her to hide it in an effort to appear refined. it'd be nice to see her relax, and what better way to let loose than end up with ice cream on your face? the sisters running Carosello could even have a cameo, with Iluka griping about "those two flirting, again!" and Siluka chiding her to calm down because they are a cute, happy couple.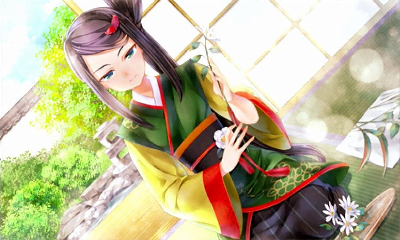 maybe i should just write the actual fanfiction... it could be a cute, comforting, and low stakes slow burn. maybe that's why writing has been so difficult for me! i like to read complicated, tragic stories, so that's all i ever write... but maybe it'd be nice to just ramble on the page with a soft story.
i'm sleepy, so i'll lay down and give it a try.
1 February 2020
the blizzard... it blows...
today ended up being laidback, against all expectation, and only because there is a huge snowstorm trapping everyone indoors. the snow is piling up on my windowsill. in the distance is the silhouette of the big trees across the street. it's cool to watch the individual snowflakes swirling around outside. they're blowing nearly sideways with the force of the wind.
this diary's design is pretty low effort, but i think it's okay for this month. i don't need to do anything too fancy right now... as long as i can write things down with some ease, then i have no complaints. after all, i can always fix it up a bit more later!
i've been listening to podcasts, sleeping lots, and trying not to implode. i think everything will turn out fine in the end... but i'm tired of waiting for things to be fine!
the other day i was so exhausted and peeved, but once i talked about The Truman Show for a couple minutes, i immediately felt better. it's probably the cure for unhappiness, or something like that. so i'm going to talk about things that i like! maybe one day i'll compile everything into proper shrines, but that takes too much work and planning. i'll just ramble freely for now.
inclimate weather in the Harvest Moon franchise
weather plays a big role in Harvest Moon games because they are, at their core, farming simulators. sunny days are great for letting animals outside to graze. rainy days allow you to skip tending crops, giving you extra time to go fishing or dig in the mines. snowy days are the norm in winter, though in some games they don't count as precipitation that will water crops. and then there are stormy days!
summertime brings typhoons and wintertime, blizzards. these are devastating storms that destroy crops, fatigue the player, and keep all the villagers cooped up inside. if you're willing to brave the harsh winds, the NPCs will alternatively scold and admire you for going out into such dangerous weather. all the stores are closed and farmwork is near impossible on these days, so i usually just check on the livestock and then go to bed early. however, i believe there are some rare fish that can only be caught during storms?! maybe a brave angler could reel them in!
interestingly enough, weather plays into the mechanics of Harvest Moon beyond just farming. just as some events will only trigger during a certain time of day, sometimes weather also plays a role. most villagers have specific routines for different days of the week. they may be interrupted or altered by unexpected snow or rain. it also has an effect on the music that plays. in many games, from Magical Melody to Trio of Towns, all the background music is replaced with SFX of falling rain. i can easily imagine myself running around town on rainy days, listening to nothing but the pitter pattering, opening and shutting doors, and the soundfont of my favourite characters chatting away.
there are some franchise-wide weather patterns, too. typically, a season in Harvest moon lasts for 28 days, with Year 1 starting on Sunday, Spring 1st. the player typically gains control on the following day, Spring 2nd. the season starts out sunny and pleasant, allowing the player to get used to the gameplay and figure out their routines. then, sometime in the second week of spring, a rainy spell breezes through to change things up for a couple of days. in summertime, i noticed that typhoons tend to come in the middle of the season and then again towards the end. blizzards, however, appear to be more random and even more frequent than their summery storm counterparts. sometimes, blizzards rage for multiple days in a row.
for a time, i believed that in Friends of Mineral Town, Zack would gift the player a fishing rod only on a rainy Tuesday. and if you missed that rainy spell in Spring Year 1, then you'd be out of luck for quite some time to get your hands on one of the most critical tools in the game. now i know that this was just a lie told to me by older family members. Zack offers the player a fishing rod on their first visit to his seaside home, regardless of the weather or day of the week! the Harvest Moon Wiki says so!
a sweet selection of HM OST
personally, i love snowy days in harvest moon. winter is a notoriously difficult season in the Forget-Me-Not Valley of Harvest Moon: DS because there are no crops to grow. bereft of that passive income, the player's survival hinges on produce from livestock, fishing, and mining. cooking can be difficult, too, if there you have no vegetables saved from the growing seasons. but the gorgeous wintertime seasonal theme makes it all worth it.
i really like the Mineral Town wintertime music, though it's much more somber. if wintertime in Forget-Me-Not Valley is frigid, then in Mineral Town it's absolutely blistering. though... now that i think about it, the winter themes tend to be my favourite in most of the games, huh! despite never playing Tree of Tranquility long enough to see beyond summertime, i really love that one too. and i have some very fond memories of the original Story of Seasons' snowy days~ that's when i got to marry my favourite Oak Tree Town bachelor, Klaus!
i feel like i could talk about this kind of stuff all day. i really really like this series of games, even though nowadays i rarely play them. someday i'd like to return to Trio of Towns to court Yuzuki, and to the Forget-Me-Not Valley of A Wonderful Life to enjoy some relaxing days by the riverside. i don't think i can stomach the early game of Animal Parade ever again, but thankfully, i'm content just listening to the soundtrack.
life is hard... i just wanna mow hay.