Dazai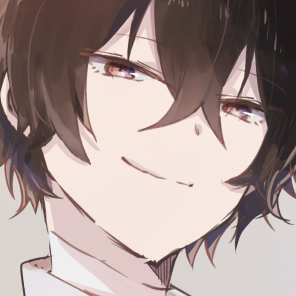 black hole in the shape of a man
"There's a saying among the Port Mafia...
The biggest misfortune for Dazai's enemies is that they are Dazai's enemies."
he is gifted with No Longer Human, named for the real author's semi-autobiographical novel. it is a nullification ability that cancels the gift of anyone with whom he shares skin contact, lending him a unique advantage in conflicts between skill users. on top of that, he's a certified genius. all things considered, he should be a widely sought-after weapon for Gifted warfare... but in reality? anyone looking to use him for their own aims will end up manipulated by him instead.
first things first. where personality is concerned, one thing must be understood: Dazai is easily bored. contemplative by nature, his early quests for self-actualisation hit a wall of nihilism, now barring him from the most basic enjoyment. at this point he sees no meaning in life at all. be that as it may, his wish for a painless death causes him to abort all suicide attempts halfway through, thus shackling him to misery from which he cannot escape.
his only reprieve from futility is tormenting others. no one is safe from Dazai's taunting, not his superiors, not his friends— not even those who pose a credible threat to his life. he loves to play pranks on his coworkers; enter and win outrageous bets; freeload upon the good-natured; show up late or not at all; and generally cause problems on purpose just to see what will happen. this pairs nicely with his lackadaisical nature. unless it personally interests him, he avoids work at all costs regardless of the consequences that rain down on others.
rest assured, Dazai only does exactly as he pleases. being a genius has its perks, especially the ability to manipulate people and circumstances to one's benefit. whatever end he chooses, whether it's ice cream for dinner or an enemy dead at his feet, he always finds the means to get what he wants at the lowest cost to himself. he is the king of lying, cheating, and stealing with a smile, forever 12 steps ahead with 10 escape plans on top. it's not that he's ignorant of his poor behaviour— far from it. more aptly put, he just doesn't care.
based on evidence from No Longer Human, the lying and pestering compensates for the emotional void within him. an aberrant personality— cold, secretive, egocentric, sadistic— precludes genuine human connection. despite his genius intellect, nothing in his mental arsenal lends access to intimacy. in other words, Dazai's only tool for building relationships is an elaborate game of cat and mouse where he provokes an emotional reaction from his target. sad as it is, this is his best chance at influencing others. it's only a mockery of intimacy... but what more can he ask for? not much is lost considering his compulsions for obsfucation, for reclusion, for burying his secrets and shutting everyone out. Dazai gets everything he wants. everything except someone to love him.
pull back the black curtain on my past
nothing is known of Dazai Osamu's life before age 14, where he suddenly appeared under the tutelage of the former army doctor Mori Ogai, now head of the Port Mafia. i speculate he was yet another child orphaned by the Great War— but more on that later. to satisfy his own ends, Mori made Dazai a witness to the assassination of the former boss and forced him to testify to the veracity of Mori's succession. this was particularly advantageous considering Dazai's long-standing death wish. should he finally succeed at killing himself, the liability of truth would die with him. unfortunately Dazai continued to live. Mori, making the best of the situation, chose not to dispose of him and instead groomed him for future leadership. his formal induction to the Port Mafia began at age 15 when he was tasked to investigate a rumour in exchange for a guaranteed suicide method. this investigation set him on the path to meeting Chuuya. their union changed his life forever.
following the successful investigation, Dazai was immediately promoted to lead his own military squadron. alongside his usual cunning, he used this leverage to force Chuuya into the Port Mafia as well, where they ended up working closely together. few could have predicted how devastatingly powerful their partnership became. by age 17, both were ranked among the top brass, making them the two youngest Port Mafia executives in history. nicknamed The Demon Prodigy, criminals all over Japan feared and renowned his merciless tactics. by the time he was 18 years old, he was the biggest bankroller in the Mafia. but evidenced by his sparsely decorated office,[7] neither fame nor fortune appealed to Dazai in the slightest.
"Be on the side that saves people. If both sides are the same, then choose to become a good person. Save the weak, protect the orphaned. You might not see a great difference between right and wrong, but... saving others is something just a bit wonderful."
above all, Dazai fears his own worthlessness. he managed to escape the hell of self-pity by joining a humanitarian cause with the Armed Detective Agency. still, he is unhappy. still, his bloodstained past haunts him. during his adolescence in the Port Mafia, his only will to live was a desire for violence— witnessing it, inflicting it, commanding it— and like all things he found success in it. 136 murders, 312 cases of extortion, 625 cases of fraud, along with various and sundry other crimes. [CITATION] these are Dazai Osamu's documented offenses. as such i cannot begin to imagine the depth and breadth of his true criminal history.